The Party Branch of the Zhonggang Construction Group Co.,Ltd and the First Party Branch of the Xiangcheng Branch of the Suzhou Construction Bank held the
time:2018-12-03 count:524
On November 28th, 2018, in order to carry out the spirit of the Nineteenth National Congress of the CPC, promote the normalization and institutionalization of "two learning and one doing" education, actively create and carry out the theme activities of "not forgetting the first intention and keeping the mission in mind" and further promote the strict governance of the Party and promote the joint construction activities of the Party organizations of both sides, the Party branch of Zhonggang Construction Group Co.,Ltd and the first Party branch of the Xiangcheng Branch of the Suzhou Construction Bank held a ceremony for the signing of the "Party Construction for the Development of Banks and Enterprises Hand in Hand."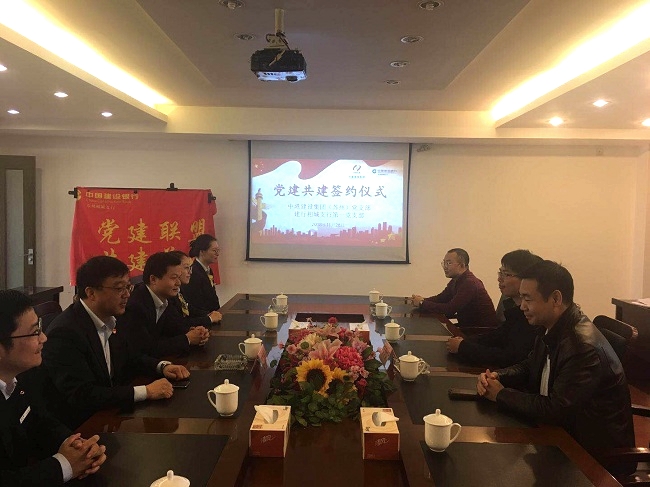 At the symposium, Zhou Qingming, Secretary of the first Party branch of Xiangcheng branch, said that in the future, the two sides would closely adhere to the principle of "complementary advantages, mutual assistance, activity linkage and resource sharing", focusing on strengthening the construction of Party organizations and Party teams of both sides, and actively explored measures such as position construction and activity linkage. The Party branch of Zhonggang Construction Group agreed and hoped that through cooperation and co-construction, the Party organizations of both sides could strive for excellence, deepen innovation through co-construction, promote development through Party building and promote coordinated development of all work of both sides.
Then, Peng Yongwei, from Zhonggang Construction Group, introduced the development and future plan of the company, and put forward that the company needed bank services and cooperation in the development process. Zhou Ting, Deputy Secretary of the first Party branch of Xiangcheng branch, introduced the comprehensive personal finance service of CCB. CCB integrated strong financial resources, high-quality financial products and strong cooperative business alliances, hoping to bring comprehensive financial services for enterprises and employees in all aspects of settlement, financing and financial management.
Next, Xiangcheng branch launched the activities with the theme of "Three Strategies Entering Zhonggang Construction Group". Liu Chenjie, a member of the first Party branch of Xiangcheng Branch, introduced in detail the "Three Strategies" of housing leasing, inclusive finance, financial science and technology of CCB to the participants. Combining with the daily work, he introduced the development direction and financial instruments which are closely related to everyone.
Finally, the two sides said that all Party members should strive to improve their Party spirit, put what they have learned into practice in their daily work, and hope that the two Party branches can help each other, cooperate and reach a win-win result. Therefore, they can give full play to the advanced exemplary role of Party members and the role of the fighting fortress of Party organizations.