China Construction Group Co. Ltd. and Del Du Grand Opening cement factory
time:2016-10-26 count:949
9 October 21, 2016 morning Mozambique time in Africa, China Construction Investment Group in Mozambique Del cement factory and held a grand opening ceremony in Pemba city.
Attended the ceremony are: President Felipe Jacinto Newsy of Mozambique, trade and commerce minister, Del and governor governor of Hong Kong Construction Group Limited company chairman as standard, Hong Kong Construction Group (Hongkong) Co., Ltd. chairman and general manager Qin Keding soldiers, partner Pemba Construction Group Chairman Liu Chenhua and general manager Liu Weiya. China economic and Commercial Counsellor Embassy in Mozambique on behalf of Wang Lipei China ambassador to Mozambique to visit the site and congratulate Su jian. Pemba area government departments, banks and various service agencies, the competent local well-known entrepreneurs and friends, Chinese Chamber of Commerce in surrounding area residents gathered cement plant opening ceremony, together to congratulate the cement plant put into operation.
At the president's speech at the opening ceremony, the smooth operation of the project to congratulate China enterprises expressed support in Mozambique industrial development. Del, chairman of the group announced in the speech donated 1000 tons of cement for the development of social welfare undertakings of the provincial government of canada.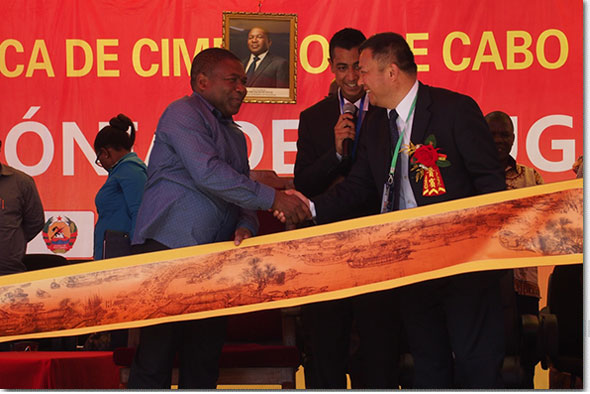 Del Christ is the only cement plant cement plant in the province from July 2, 2015, Del and governor governor and counselor personally presided over the groundbreaking ceremony today, after 1 years and 2 months, the first phase of the project investment of 19 million dollars with an annual output of 250 thousand tons of cement. After the project put into production, on the one hand to solve the local employment problem, on the other hand, the project will become the local industrial workers training base, improve the overall quality of the local labor force.
With New Zealand's successful visit to China, Mozambique established a comprehensive strategic partnership, the two countries will cooperate in production, trade and economic cooperation zones, such as the depth of cooperation. Chinese government and financial institutions will continue to support the project of Mozambique key infrastructure; will participate in the construction of the Mozambique Special Economic Zone China financial institutions and enterprises, the planning and development of a number of industrial parks, deepen bilateral cooperation on industrialization and agricultural
modernization plan; a number of large professional enterprise will participate in the Mozambique mining industry, such as electricity and natural gas exploitation; also there will be a number of Chinese investment enterprises to participate in the cultural and tourist areas. Cement as the basic construction of basic materials, will have good market prospects.