President of mozambique meet with group leaders in Diao Yu Tai State Hotel
time:2016-06-07 count:1233
Filipe Nyusi ,the the president of the republic of Mozambiquehas held talks with Mr.Bin Cheng, as vice-president in Zhonggang Construction Group Co.,Ltd and chairman in the Zhonggang Construction Group(Hong Kong) Co.,Ltd and others at 10 p.m on 19th, May, 2016 in the Bei Jing Diao Yu Tai State Hotel.
During the talks, President Nyusi has been appreciate with the capacity building for PhaseⅠProject of cement plant of Cabo Delgadoto be established in less than one year from Zhonggang Construction Group Co.,Ltd.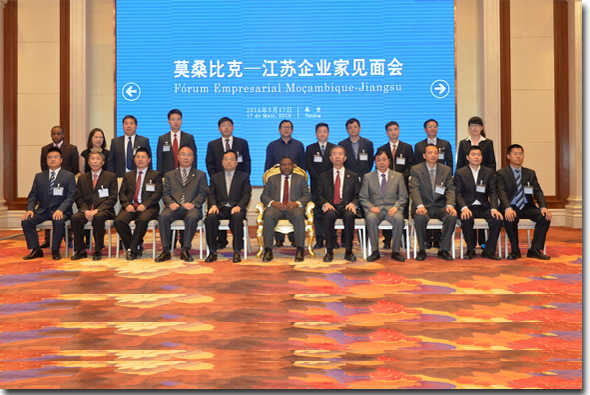 As the talks betweenMr.Bin Cheng, vice-president in Zhonggang Construction Group Co.,Ltd and President Nyusi, it has elucidated investment ideas and development planning of Zhonggang in the Mozambique, which is focus on intruction of Project of cement plant ofCabo Delgado by President Nyusi and Mr Zhijun Luo, Jiang Su Provincial Party Committee Secretary. Cement plant of Cabo Delgado as the first industrial project has been invested by Zhonggang Construction Group in the Mozambique, which ha planned three phases, including the first phase of cement grinding station, the second phase of the cement clinker production line, the third phase of building materials industrial park.The first phase has completed the installation of main equipent when it has consruction commencement ceremony in July 2015, annd it is expected to be put into operation in July, and after the completion of the project, it will produce 300000 tons of cement, whose gross output value reaches 200 million RMB with expected profits reaching 20 million RMB to help more 100 local people to work so as to solve local employment problems.Finally, the two sides have made communication on other planned investment projects in the Mozambique from Zhonggang Construction Group and President Nyusi indicactes that Mozambique government and him are welcome delegation from Zhonggang Construction Group to visit and negotiate with us as soon as possible, then they make indepth exchange of views when providing projects of specific implementation and they also have specified the President's office as a contact person to follow up the project.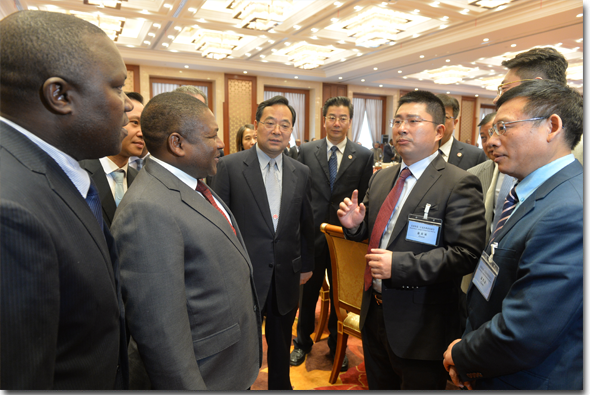 Finally, President Nyusi was very happy to accept the invitation from Mr Bing Chen to plan to attend the operation opening ceremony of cement plant of Cabo Delgado.
Zhonggang Construction Group(Hong Kong) Co.,Ltd
25th,May, 2016