The Group Company Held the Inspection Result Symposium for Overseas Projects
time:2015-01-23 count:779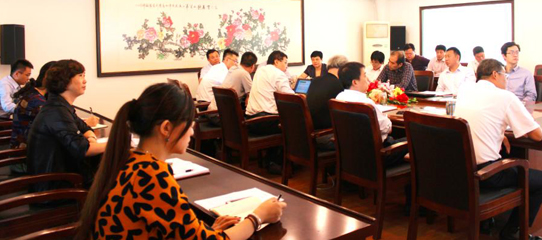 In order to achieve the information communication and sharing of the group and summarize the overseas investigations, the group company held the report & discussion meeting of the inspection results of overseas projects conducted by the Division of Overseas Business in the conference room on the 4th floor of the head office of the group. Mr. Qin, Director of Division of Overseas Business, hosted the meeting and the participants included the leaders such as Chairman Mr. Cheng, Vice-president Qin Gaoju, Vice General Manager Liu Mei as well as the relevant personnel.
At the meeting, Mr. Qin, Director of Division of Overseas Business, introduced the general situation of the project investigation in the cement plant. Then, Li Xiaochuan from the division made a detailed analysis of the feasibility of overseas investigation project which had lasted for almost a month and proposed key points of the next stage of investment project of the division according to the situation of the group.
Mr. Cheng, Chairman of the Group, also addressed in the meeting. Firstly, he highly evaluated the employees in Division of Overseas Business for their efforts in the business trip, re-emphasized the strategy of the group company during the transformation of "going for the international market" which would be the focus of the future performance. He wished that the division and the directors of all the departments in the head office should keep a foothold on the medium and long term with a long-run vision, actively consider how to grasp the overseas market and achieve the strategy of "going for the international market". Finally, he required the division to transform their views, acquire more resources create a great career by investing more energy, time and money into it, wishing that the staff in Division of Overseas Business would make the first hit in the international market.