Delgado Cement Plant is praised for supporting the development of social and public welfare undertakings in Mozambique
time:2019-11-28 count:2504
On November 28, 2019, signed by the governor of the Delgado Province, the honorary certificate was issued to Delgado Cement Plant by the head of the Bureau of Industry and Commerce to express the gratitude from Mozambican government for Delgado Cement Plant's long-term support to the development of social welfare and public utilities.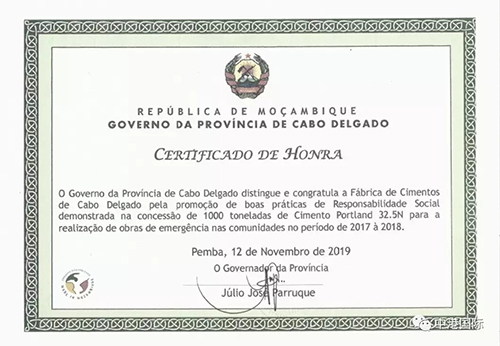 Since the operation of the Delgado Cement Plant in October 2016 with the ribbon-cutting by President Nyusi, due to the slow development of the local economy, terrorist violence happens from time to time, and the oil and gas project moved slowly, however, the Delgado Cement Plant has maintained its production commitment, and donated more than 1,000 tons of cement to the Delgado Province, with a value of about 9.5 million Mozambican Metical, and donated to local charities in cash over 800,000 Mozambican Metical in the most difficult times, and the total donation amount is more than 10 million Mozambican Metical.
In addition to providing support to social welfare and charity, as of October 31, 2019, Delgado Cement Plant has paid taxes and fees exceeding 140 million Mozambican Metical to tax authorities, created and provided nearly 400 direct and indirect jobs to local, and trained more than 500 people·time local employees in cement production, management and other related technical training.