The signing ceremony of strategic cooperation between Zhonggang Construction Group Company and Huanjia Group Company was held smoothly
time:2017-11-28 count:957
In November 24th 2017, Huanjia Group Company and Zhonggang Construction Group Company held a signing ceremony in Dalian Huanjia Group Company on the bilateral strategic cooperation framework agreement.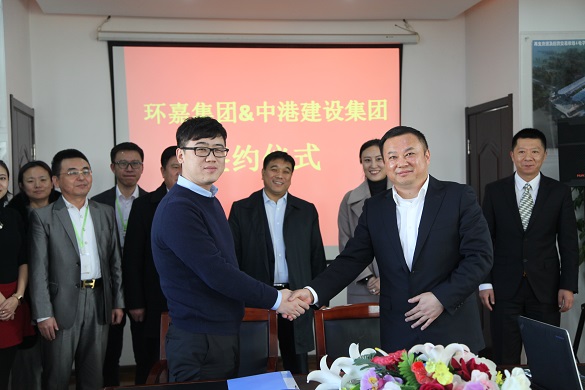 Chairman of the board of Huanjia Group directors Wang Jinping, Chairman Wang Zhiguo, Executive director Lu Zhenpeng, Vice chairman Wang Meijuan and Li Shi, Vice manager Tian Liping, Yang Hongxi, Zhao Haiyan, Zhang Tianti and Tang Xue; Chairman of Zhonghang Construction Group Company Cheng Biao, Vice president Li Wei and Sun Jiwei, 5th Engineering Bureau Chairman Kang Rui, General Manager Wang Yu and other leaders attended the signing ceremony.
At the signing ceremony, Cheng Biao, chairman of Zhonggang Construction Group Company, said that the Group Company cherishes this cooperation very much and the signing of this contract marks the beginning of the large-scale cooperation between Zhonggang Group and Huanjia Group. Taking this cooperation as starting point, the company can carry on long-term strategic cooperation with Huanjia Group from multiple levels and multiple angles to achieve a win-win result, and at the same time lay a solid foundation for the friendship between two companies; Zhonggang Group and Huanjia Group can use their complementary advantages, jointly create a new business model of circular economy park, and create a new pattern of circular economy!
At the meeting, Wang Jinping, the chairman of the board of Huanjia Group, introduced the good prospects of the development of renewable resources industry and Huanjia Group's own operating advantages and future development plans as a leading enterprise in the industry. He also expressed the hope that through this cooperation the two companies can learn from each other, achieve mutual benefit and develop quickly.

Finally, the two companies successfully held the signing ceremony of the strategic cooperation framework agreement.
Introduction of Huanjia Group: The enterprise is an international enterprise engaged in the comprehensive utilization of environmental protection recycling resources; is the national renewable resources distribution, processing, utilization leading enterprise; is a construction implementation unit of Dalian renewable resources trading platform and Dalian renewable resources recovery system; and is Dalian regeneration resources industry leading enterprise. Huanjia Group Regenerative Resources Park (Dalian) has more than 5000 mus of land resources with a total net assets of more than 26 billion yuan with annual operating income of 51 billion and ranks 147th among the top 500 private enterprises in the country for three consecutive years. It has been certified by IS09001, ISO14001 and OHSAA18001 system. Huanjia Group has 36 years of experience in renewable resources industry, and has a high-quality management leadership team and a large number of experienced elite management team, leading the development of renewable resources industry. At present, Huanjia Group is based in Dalian, constructing renewable resource industrial park in China, and has built recycling economic industrial park of renewable resources in 40 cities and towns.